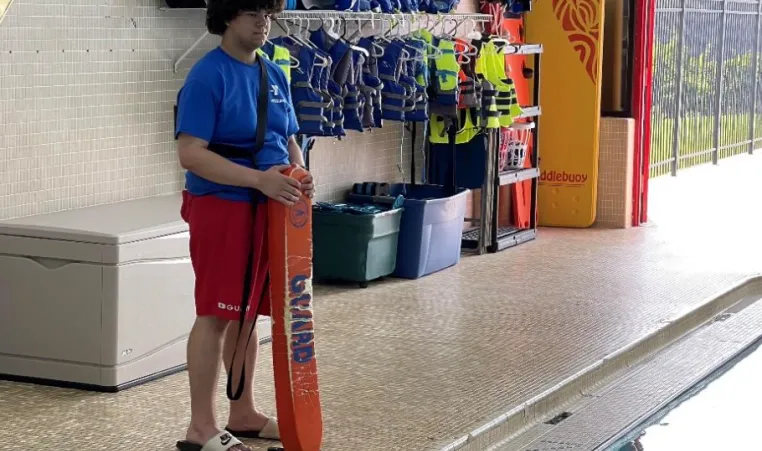 YMCA OF CATAWBA VALLEY SEES IMPROVEMENT AMID THE NATIONAL LIFEGUARD SHORTAGE: PART ONE OF TWO ARTICLES
FOR IMMEDIATE RELEASE: JULY 20, 2023
The YMCA of Catawba Valley is thrilled to announce some progress in its efforts to address the ongoing national lifeguard shortage. Despite the challenges faced by aquatic facilities nationwide, the YMCA of Catawba Valley has taken proactive measures to ensure the safety and well-being of its members and the community. 
As a leading provider of aquatics programs and services, the YMCA of Catawba Valley recognizes the critical importance of having a robust lifeguard team. The organization has implemented a comprehensive recruitment and training campaign to attract individuals interested in pursuing lifeguarding as a fulfilling and rewarding career. 
Logan Taylor, the Director of Aquatics at the Adrian L Shuford Jr. YMCA, says things are beginning to look better as we work through this shortage. "We are doing better this year than last year, but we are still actively seeking additional lifeguards." he said. "The Y will cover the cost of training for all perspective lifeguards that are willing to commit to our organization for at least a year of employment." Taylor said. 
The YMCA of Catawba Valley remains committed to maintaining a safe and enjoyable aquatic environment for all its patrons. With the ongoing efforts to attract and train lifeguards, the organization is confident in its ability to provide high-quality supervision and foster a culture of water safety. 
For more information about the YMCA of Catawba Valley and its aquatics programs, please visit www.ymcacv.org or contact Logan Taylor at 828-464-6130 or [email protected]. 
As we conclude part one of our two-part series, we hope that the focus on aquatics safety at the YMCA has emphasized the paramount importance the organization places on protecting its members and visitors in and around the water. Next week's part two will unveil the groundbreaking technology called RESCUE swim bands. These innovative water-activated, internet-enabled panic button systems represent a significant leap forward in aquatic safety, enabling lifeguards to initiate emergency procedures swiftly. Part two will also delve deeper into this cutting-edge technology and witness how it further enhances the YMCA's already robust safety protocols. 
Lifeguard Job Description
YMCA of Catawba Valley Employment Application
Media Contact: Gerry Knox | 828-324-9622 | [email protected] 
#### 
YMCA OF CATAWBA VALLEY

The YMCA of Catawba Valley was established in 1969 to strengthen our community through youth development, healthy living and social responsibility. The Y engages over 25,000 men, women and children each year – regardless of age, income or background – to nurture the potential of children and teens, improve the community's health and well-being and to provide opportunities to give back and support neighbors. The Y has the long-standing relationships and physical presence not just to promise, but to deliver, lasting personal and social change. The Y mission is to put Christian principles into practice through programs that build healthy spirit, mind, and body for all. www.ymcacv.org.