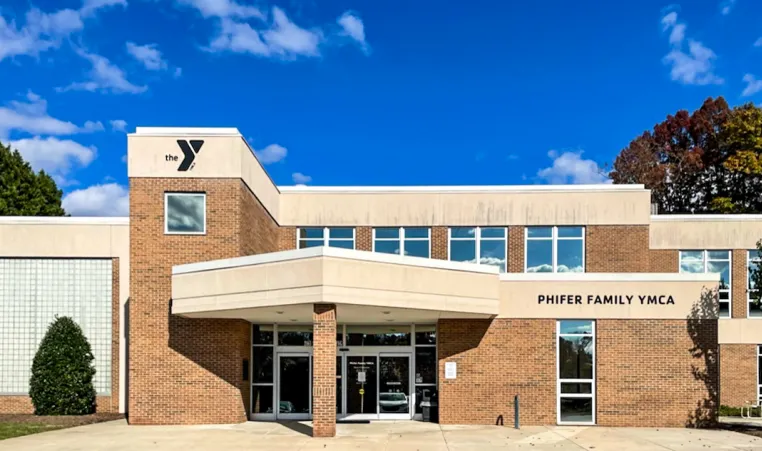 FOR IMMEDIATE RELEASE: FRIDAY, NOVEMBER 4, 2022
YMCA OFFERS CHARTER MEMBERSHIPS AS THEY MAKE UPGRADES AND PLAN RIBBON CUTTING
Morganton, N.C. – The YMCA of Catawba Valley is selling charter memberships for the Phifer Family YMCA which opened November 1 in front of UNC Health Blue Ridge. Charter memberships can be purchased at the YMCA. They offer exclusive benefits such as early access to the YMCA, an invitation to a ribbon cutting event in January, no joining fee, and a complimentary charter member t-shirt. The Phifer Family YMCA has been undergoing various investments since opening and will become the newest branch of the YMCA of Catawba Valley association.
"Joining the YMCA as a charter member is a great opportunity. Not only will charter members get early access to the Y, where they will be among the first in our community to see various investment projects come to fruition, but they will also receive savings on joining fees and other special perks," explains Kirk Williams, Director of Membership & Fitness for the Phifer Family YMCA.
The YMCA has been busy in the first week replacing interior and exterior signage, surveying members on new equipment/needs and working to serve existing members through the transition. Through partnership with UNC Health Blue Ridge, the YMCA is leasing the hospital's facility and will offer Y programs and services to the Burke County community at large. The facility will be converted into an exceptional YMCA, immediately offering YMCA memberships, health and wellness services, and aquatic programming. Youth and Family programs will be phased in over time to complement existing programs and to better serve families. The existing facility, located at 2165 S Sterling St in Morganton, includes racquetball courts, 4-lane indoor pool, locker rooms, cardio and strength equipment, functional training studio, group exercise studio, offices, and spaces for classrooms/education. New benefits to be offered by the YMCA include:
• No annual contracts
• Access to hundreds of YMCAs nationwide
• Clean and safe facilities
• Drop-in childcare for families
• Unlimited group exercise classes will be included with membership
• Discounts on YMCA programs (swim lessons, afterschool, wellness and youth programs)
Membership rates start at $30/month and vary based on household size. The YMCA is a 501(c)3 non-profit organization and offers financial assistance for qualifying individuals and families.
Mission: To put Christian principles into practice through programs that build healthy spirit, mind, and body for all.
"Signing up for a membership at the YMCA is a great way to start living a healthier and happier lifestyle. We offer financial assistance for both Y membership and programs so that everyone can have the opportunity to be a part of the YMCA," says Williams.
Charter memberships will be available for a limited time prior to the ribbon cutting in January.
CONTACT:
Gerry Knox, MBA Development Director
Office: 828-324-9622
YMCA of Catawba Valley
www.ymcacv.org
#####
ABOUT: YMCA OF CATAWBA VALLEY
The YMCA of Catawba Valley was established in 1969 to strengthen our community through youth development, healthy living and social responsibility. The Y engages over 40,000 men, women and children each year – regardless of age, income or background – to nurture the potential of children and teens, improve the community's health and well-being and to provide opportunities to give back and support neighbors. The Y has the long-standing relationships and physical presence not just to promise, but to deliver, lasting personal and social change. The Y mission is to put Christian principles into practice through programs that build healthy spirit, mind, and body for all.